Online Marketing Marbella
To have the Best online marketing in Spain you need a complex mix of several elements such as Search Engine Optimisation (SEO), Social Media Optimisation (SMO), Content Creation and Distribution. Staying up-to-speed with the latest search engine guidelines requires the help of professionals these days.
Online Marketing nor Google are a Black Box nor are they magic. It's simply compiling all the DO's and DON'Ts of what the masters (Google, FaceBook,…etc.) dictate. NOBODY positions on page one of Google without spending significant effort and applying latest rules and guidelines on an ongoing basis. Whether you require SEO for real estate in Málaga, a nationwide online shop or world wide recipe website, your rankings on search engines will only be a result of your efforts. Without applying the latest guidelines, your site simply drops in the rankings as seen as a probably 'dead business' by the search engines.
So "Where to start? What works for me?"
Both excellent questions and the answers are very diverse depending on the lifecycle of your business, your website, your social media…and your industry. Nobody can give you a 2 second answer on this as you also wouldn't shoot without aiming on your target. We offer deep-going analysis and clear Online Marketing planning for this. Let's start explaining some components below.
Here we talk about Organic Positioning and not Paid Marketing (e.g. Google Adwords or Banners). Organic ranking is of the uttermost importance since about 80% of all searchers will trust an organically positioned website more than an advertisement. Organic implies natural growth and no unnatural behaviour or 'sudden' positioning. Although it is possible to 'quickly' position a site in the organic ranks, the success however will be for a short time only until the search engine catches up and sees through the 'black hat techniques' used.     

Search Engine Optimisation (SEO) & Related Topics

Since all we do has the main goal to expand your footprint online, so that you get noticed by more people and on relevant searches, let's define 'footprint' first: Your internet footprint represents your presence on the search engines and other sites, showing your eco-system through a diverse set of channels and websites. The larger your footprint, the more you are seen as the authority in your speciality.
Nowadays people are not only searching virtually any service and product online, so we are all engaged through social channels like Google+, FaceBook, Twitter, Pinterest, YouTube, and many many more. This is why we include Social Media Optimisation in SEO as an indispensable component to create your footprint and grow your audience. For all of the above, the main central topic is: CONTENT. Content needs to be abundant, original (zero copy tolerance), relevant, recent and written as humanly as possible. Besides words, content also includes images, graphics, memes, videos, etc. Downloadable content such as eBooks, reports, expert opinions, reviews etc are excellent tools to build your audience and grow credibility as being the authority in your industry. Organic positioning is a step-by-step process that needs to be intelligently structured so you build, grow and nurture your presence online. Regardless of your competition, you'll need TIME to steadily be considered the authority. All of our programs have a time laps of a minimum of 6 months: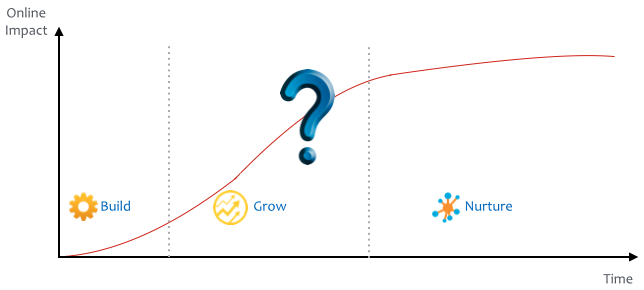 BUILD
Building the blocks for a steady growth and to establish the desired footprint to be recognised as the authority in the future. Here start with an intensive study and analysis of your site and eco-system, as well as those of the closest competitors or companies you want to beat. This results in a realistic plan of action so that all components can be put into place and the vehicles to grow are in place. This typically takes most, if not all of month 1 of the program. Timing depends on which program you opted for, and can be accelerated depending on it.

GROW
Once the foundation is well built, now we can start growing your presence online through well-coordinated efforts and great content. As in any good marketing campaign, messaging and topics are streamlined and publishing of content is scheduled to maximise its impact through the diverse channels like own website, related sites, social media networks, etc. This phase represents the bulk of the months and flows into the nurture phase.

NURTURE
Now that there is a clear traction on the diverse search engines and social networks, the organic expansion needs to be nurtured to expand and define your business as the expert and show your the Authority in your field. Gradually new components are injected, such as video marketing, eBook promotions, campaigns, etc.
At this time, since your site now has steady recognition and and ranks high with several key focus keywords & phrases, we can multiply the number of keywords/phrases to expand the digital footprint which means your site will be found by many more people and conversion rates increase steadily.