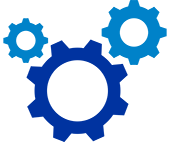 Staying up-to-speed easily with the newest technologies in Spain.

Apply technologies that your customers or prospects actively use today and tomorrow.

Technology enables business processes that make sense to your bottomline.
Once the appropriate go-to-market strategies are clearly defined, we jointly determine the most appropriate technologies to realise the objectives, regardless of how a potential client accesses your information and with which device.
We apply new trends, use the latest tools and technologies, and we are technology-independent.
There is no field in business evolving as fast as technology and more specifically mobile technology in Spain. In 2011, OptimaSit.com was the pioneer with its first solutions for smartphone users, and has meanwhile evolved to market leader and absolute expert when it comes to mobile internet solutions. With over 70% of all internet searches originating from mobile devices, the primary focus of any business should be "mobile first". At OptimaSit.com we have developed fusion technologies bringing together the best of different worlds to adhere to the strict guidelines from industry analysts. These unique solutions are usually inexpensive and can increase relevant business contacts by 21% when properly applied. In the end this is what counts!