Dedicated Hosting in Spain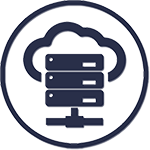 No more negative impact from shared hosts.
Here is an all-in-one Dedicated Hosting in Spain solution you can afford!
Have you ever wondered why a website reacts slow at times and then faster again? Ever experienced websites that are down and shouldn't be? That's likely due to, or, the site sits on a shared host and is impacted by the many other websites competing on the same server for the same resources, or, the site was impacted by its IP being blacklisted due unauthorised actions of another site on the same shared host. At OptimaSit.com we know the importance of your website and therefore we only offer the best available servers in secure locations that have a maximum up-time and the fastest performance. Your site will never be impacted by any other site and you have much room to grow both in size and traffic.  We have the most secure website hosting in Málaga.
We offer as part of your contract, a full service for system administration so that an expert monitors and manages the server for you. Top notch email hosting is also available. No hassles ever.