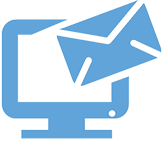 Email Marketing Spain
It simply works when done well.
You need to build virtual trust.
Give your audience good & free information that generates loyalty.
The information age has made all of us more informed people. It has provided us with access to valuable information anywhere, and everywhere at any time. email marketing, as opposed to SPAM is permission-based emailing where people subscribe to receive your emails. This is a very powerful tool as you have a captive audience that is usually interested in information you share. In many cases, small online business owners make several mistakes in creating their email marketing campaigns. We understand that it is very important to provide free information, which in turn informs your audience of subjects related to your business. More importantly, it provides your audience with information that they need and want. Free not only refers to zero-cost, it also means that it is not promoting some product or service.
OptimaSit.com is an online marketing company in Marbella, and are experts at building email lists, creating multilingual content, and distributing it in attractive and effective ways to your potential clients. Start generating more interest in your company, products and services today; get those conversions and reap the benefits over and over again. This method also increases visitors to your website…your own eco-system!