February 19th 2014 – Vamoz.es is officially live, and has a clear message to send its target audience in Belgium – Leef Nu! – Live Now!
Vamoz is a unique real estate business that targets its home country of Belgium and Flemish/Dutch speaking people seeking to enjoy life more. As many who live on the coast, OptimaSit's staff included, we know all too well the astonishing amount of real estate businesses looking for the same thing.
Enjoy the Marbella Lifestyle with Vamoz
However, Vamoz offers something incredibly unique to its current client base, as well as future clients or potential property buyers in Belgium – a personalised network, where those interested in the Marbella lifestyle, and living in the moment can feel welcomed among its very own community.
"It doesn't end at the money exchange…we are not out to make quick money selling property in Marbella. We want to make new friends, and introduce those friends to a network of others who are new to Marbella or the Spanish lifestyle" – states Bert Tock.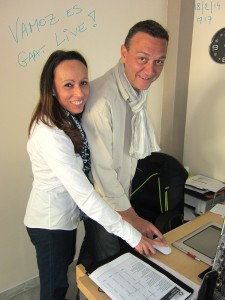 The Costa del Sol is home to thousands of expat from across Europe, Russia and even North America. Those who decide to retire here or simply purchase a holiday home on the Costa del Sol, in most cases; could be in for a culture shock. Expats from the United Kingdom alone make up a high percentage of residents here on the Coast; but when it comes to other countries, like Belgium – where do they turn when interested in purchasing property and integrating as Flemish people in this multi-cultural society?
The answer is Vamoz.es
"We understand what it's like to move your entire life or make an incredible change. We don't want people to feel left out of everything Marbella and the Spanish lifestyle have to offer. That's why we formed a network of friends, which we introduce each new client to; and it's much more than a simple welcome – we want to make life-long friends as well." – said Inge
Spain and the Costa del Sol are certainly worth exploring. In all honesty, the Spanish lifestyle is unlike any other. Vamoz offers more than just properties, their blog and news section, accompanied with plenty of videos will show its audience just what their missing. On display is more than a brand new villa or luxury apartment; browsers will see the food, the shops, the famous Puerto Banus, learn some popular Spanish phrases and explore the many culture diversities that make the Costa del Sol so incredibly alluring.
Stay tuned for more updates, a newsletter and cool videos from Vamoz.es. We are proud to welcome Bert, Inge and Vamoz.es to the Optimasit family!
Check out Vamoz here, and don't forget to be social!