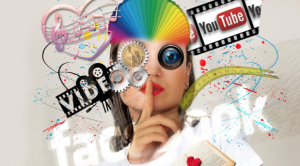 These days if you want to run a successful business, your communications must be polished and consistent. You must be prepared to chew the cud with customers, and to be practically on call to respond to messages and comments; this is something Real Estate agents do all day long in the flesh, but perhaps not so much online. The thing is that (just as all other businesses must do in the current climate) Realtors must now equally embrace online communication if they are to stay ahead of their game.
The below social networking platforms are hugely popular all around the world; they are the main online hangouts for your potential customers, but these platforms are no longer solely used for social reasons. They're widely accepted as commercial platforms too, so people are as accustomed to checking out businesses on social media as they are company websites.
Connecting with others on Facebook, Twitter, YouTube and Linkedin is so normal that users rarely go a day without signing in; many rarely go an hour. Your potential customers are online and paying attention, which means you have a wealth of opportunities to get them talking to you and about you – and of course your properties. As a Costa del Sol Real Estate agency, you'd be crazy not to use this to your advantage. Optimasit are based in Marbella and we specialise in online marketing; we know the drill, and here's what we think you need to know:
Facebook
Facebook has 800m users around the world, and a reported 95 per cent of social networking time is spent on this site. In other words, it is the big daddy – everyone's firm favourite. We're guessing that the chances of you not having a Facebook business page are slim to none, but are you making the most of it? Are you familiar with the algorithms Facebook is currently using? Your business will be impacted in a big way by these algorithms, so it's crucial to keep on top of them. Your reach depends on it, in fact.
In terms of customer communication, there are some things you should have done by now.  For instance, connecting with all of your clients (current and historical) and inviting them to like and share your page/events/blogs, etc.; incentivize them to follow your page with discounts on services, referral schemes and more. They'll then be more inclined to check on your page regularly and connect with you this way. Then when you use Facebook's advertising functions (that's another story), you'll also be more likely to reach these people via their newsfeeds.
Twitter
Twitter is a little behind Facebook in the popularity stakes, but with 300m users, it can still claim to be the second most popular social networking platform around. It's showing no signs of slowing down either, so businesses are striking while the iron is hot. As a serious Real Estate agent, Twitter communications should be on your daily to do list. The beauty of this site is that you can get bites of info out in record time about your properties and services. It takes up less of your time and less of your potential customers' time… that's clearly a win-win situation.
You've got 140 characters to make your point, which is more than enough to get the fundamentals and a link across. In an era where attention spans are stretched to the max, conciseness is key, and Twitter is your ally. There is another aspect to Twitter that will work in any Realtors' favour: content is so easily shareable that you'll find yourself benefiting from free marketing. People who like your properties or what you have to say will 'retweet' or 'mention' your posts; they run with what you put out there and take it to their friends, and before you know it, your brand is a household name.
YouTube
YouTube is at the forefront of video marketing. Taking in information this way is much easier than reading, and visual content tends to win hands down over words on a screen. It's more entertaining, for a start; YouTube has 3 billion views every day, so these figures speak for themselves.
From a Real Estate agent's point of view, video is a fabulous tool. If customers can see a prospective home through a video, you're saving them a lot of time and effort. People are busy, so the less convenient it is for them to view your property, the more likely they are to call up an agent with an equally beautiful property on their books – one they found a video tour of on YouTube.
If your business has a YouTube channel, you'll get a lot more attention from potential homebuyers, and as you can make the videos yourself, it can work out a lot less expensive than placing TV adverts. Because of the nature of this competitive industry, search engines throw up a lot of content to wade through; this means that having a YouTube channel puts you a few steps ahead of competitors who are less 'on the ball'.
Optimasit work with many Real Estate agents on the Costa del Sol. We know your business well, and we know how to effectively market it. We even designed Real Estate CRM software to make your daily operations run as smoothly as possible. If you want a little assistance with your Real Estate marketing, you've come to the right place; we are the best marketing and technology agency in Marbella.