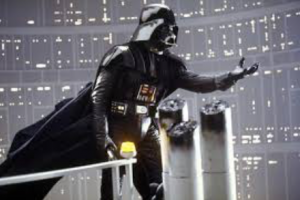 It's nothing new – it's been around for years but for some reason, the big brands like Adidas and USA Today are now jumping on this social opportunity. Dark Social is ominously named, yet all very innocent and above board, we promise. It is a direct line to your audience in an overcrowded web space.
It possibly already accounts for over half of your social traffic, yet on analytics it shows up as direct traffic. On paper this means someone is typing in your url or accessing from a bookmark; both possible but highly unlikely. What is this mysterious social platform that your business is already benefitting from, and how do you grow its effectiveness?
What is Dark Social?
Dark Social refers to personalised links shared in private, out of the public domain on Messenger, WhatsApp, email, text etc. Sent between friends and colleagues, these links are personal recommendations and suggestions from trusted parties. It's what we all did before the 'social' scene with Facebook, Twitter and friends became the currency.
The main thing to understand is that in most businesses Dark Social accounts for around 50% of all social traffic. It's hard to be concrete on these figures but The Atlantic figured it out pretty quickly, due to direct traffic coming in through a long URL. They knew no-one was typing in
"http://www.theatlantic.com/technology/archive/2012/10/atlast-the-gargantuan-telescope-designed-to-find-life-on-other-planets/263409/."
They figured this traffic must be coming from a link somewhere, yet it wasn't like when someone clicks a facebook link, as this obviously shows up as Facebook traffic.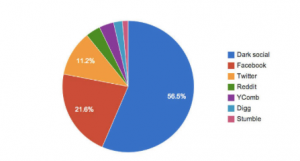 The Atlantic's social traffic
What this means for your business
The first thing it reiterates is the importance of content quality. It's no longer viable to simply churn out mediocre content in the hope that someone will read it and it will somehow improve your SEO. Content has to be relevant and add value for the reader in order for it to be shareable. Ask yourself what does your content give, is it useful, does it entertain, and would people want to share this among their peers?
With content creation being the 'thing to do' consider how your content is going to reach its mark. The flow of information is at an all time high and consumers of content are becoming increasingly discerning with their clicks. Brands will need to become far more personal with their engagement in the fight for consumer attention.
How and when to use dark social
It's worth noting that dark social is of particular relevance to the over 55 age bracket. According to RadiumOne's research, 46% of consumers in this bracket will only share links via dark social as opposed to the 16-34 age bracket where that figure drops to 19%. In either age bracket those numbers are big enough to justify giving Dark Social some serious attention. If you work in Real Estate you need the special online marketing for real estate agents.
Brands such as Adidas and Clarks have utilised WhatsApp to great effect, creating brand advocacy and engagement, with this video demonstrating how Dark Social can be integrated into most campaigns.
Most importantly, as with any social opportunity, it's important to 'test and learn' with your audience. Dark Social can be about more than simply increasing web traffic. It's an opportunity to have a unique two-way conversation that can direct product development and how you engage with your target audience. In Optimasit they have special online marketing for real estate agents.
If you'd like to harness the power of Dark Social for your business and integrate it into your marketing campaigns, then get in touch with us. As Marbella's leading marketing and technology agency, we're experts in creating the right kind of attention and connecting you with right audience.